A Few Words About Us
Monarh brings creativity to your wardrobe
MAKING YOU TO SHINE
YOUR STYLE IS OUR PASSION
We've chosen to inspire women and offer them exclusive pieces that help them step out of their comfort zone when it comes to clothing. We provide a wide range of outfits that you won't find in any multinational shop.
We offer personalized design that will give you a flawless look wherever you choose to wear the outfit. Unique collections by Monarh Design inspire grace and provide an incredible sense of comfort. This is how we've managed to stand out in the fashion world.
Our clients can choose to wear a unique model by Monarh, or they can come with an idea and then we build something special together. We are attentive to what our clients want and always reach a common ground.
Additionally, considering that they can create a complete outfit, we assist them when needed and advise on how to match their outfit in the most original way.
Designed with love by Larisa Lupoiu.
Monarh by Larisa Lupoiu is the ideal choice for the refined, elegant, and original woman. The brand's unique and feminine creations add a touch of nonconformity and dynamism to everyday and event outfits.
The brand is recognized for the exceptional quality of its materials and its meticulous attention to detail. Monarh offers a wide range of products that includes day and evening dresses, creations for special events, including weddings, civil ceremonies, or baptisms, as well as complete day outfits and office attire.
Monarh aims to return to the basic notes of timeless elegance and to offer the modern woman perfect pieces for long vacations, days at the office, or unique life events. Regardless of the occasion, you will always find what you desire in the Monarh range.
Monarh Design's unique collections inspire grace and provide an incredible sense of comfort. This sets us apart in the fashion world. For us, it's important that each wearing of Monarh outfits is truly special. Our clients can wear a unique model by Monarh or adapt each piece of the brand made-to-measure for a flawless fit.
The blazer dresses and unique silk pieces are the brand's signature and have become, over time, our customers' favorites.

We've prepared timeless pieces that will make you the center of attention, both at events you'll attend and in everyday life. Discover mini dresses with silk ruffles, unique pieces with ring inserts, or two-piece suits with faux-corsets.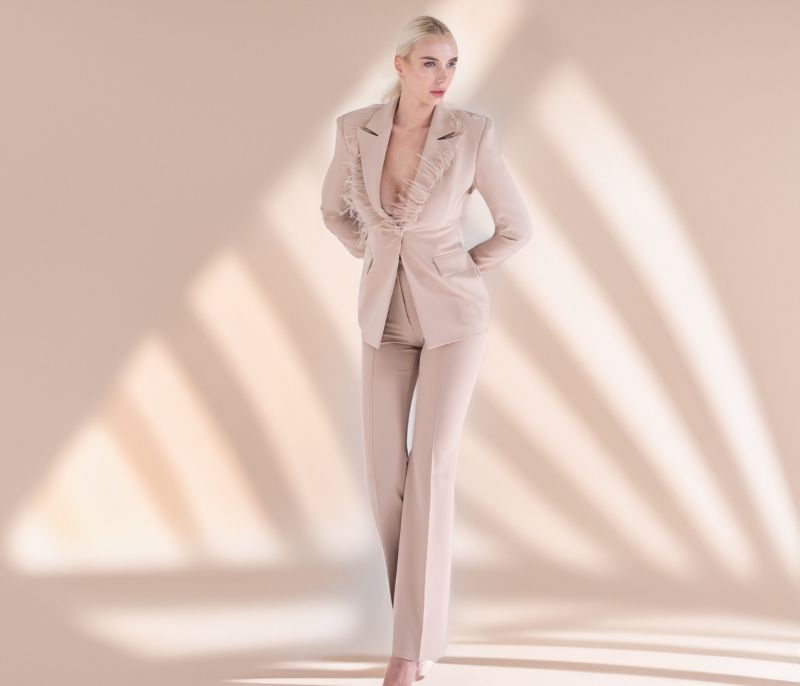 Be it a perfect little black dress worn during the day or in the evening or a fancy statement blazer, Monarh Design will offer
countless options for the confident woman that loves fashion.
Monarh Design creates timeless piece suitable for the trendy, chic and powerful woman of today. A blend of classic cuts and innovative designs, our collection are a mirror into the style of the active and affluent woman